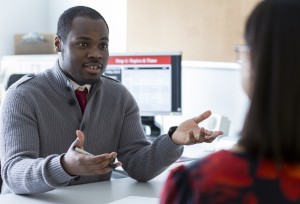 Online Academic Coaching is available to all Ohio State undergraduate, graduate, and professional students via CarmenZoom.
---
Academic Coaching for Undergraduate Students
Undergraduates can schedule a coaching session online using OnCourse:
Click the blue Schedule Appointment button on the right side of your OnCourse student page
Select "Dennis Learning Center Academic Coaching"
Select the topic you would primarily like to focus on in your coaching session
Choose a location (online only in Summer 2020)
Select a coach (optional, leave blank to see availability for all coaches)
Choose the day and time that work best for your schedule
Describe additional information or requests in the notes
The CarmenZoom link will be emailed to you in your OnCourse reminders.
---
Academic Coaching for Graduate/Professional Students
Graduate and professional students can schedule a coaching session online. Select a day and time that works with your schedule, select your coach, and complete our online form. Once your appointment is scheduled, your coach will email you with a link to join the meeting on CarmenZoom.
---
If you can't find a time, have other questions about scheduling, or experience any glitches when booking, don't hesitate to email us at dlc@osu.edu or call us at 614-688-4011. We'll be happy to help you find a time that fits best with your schedule.