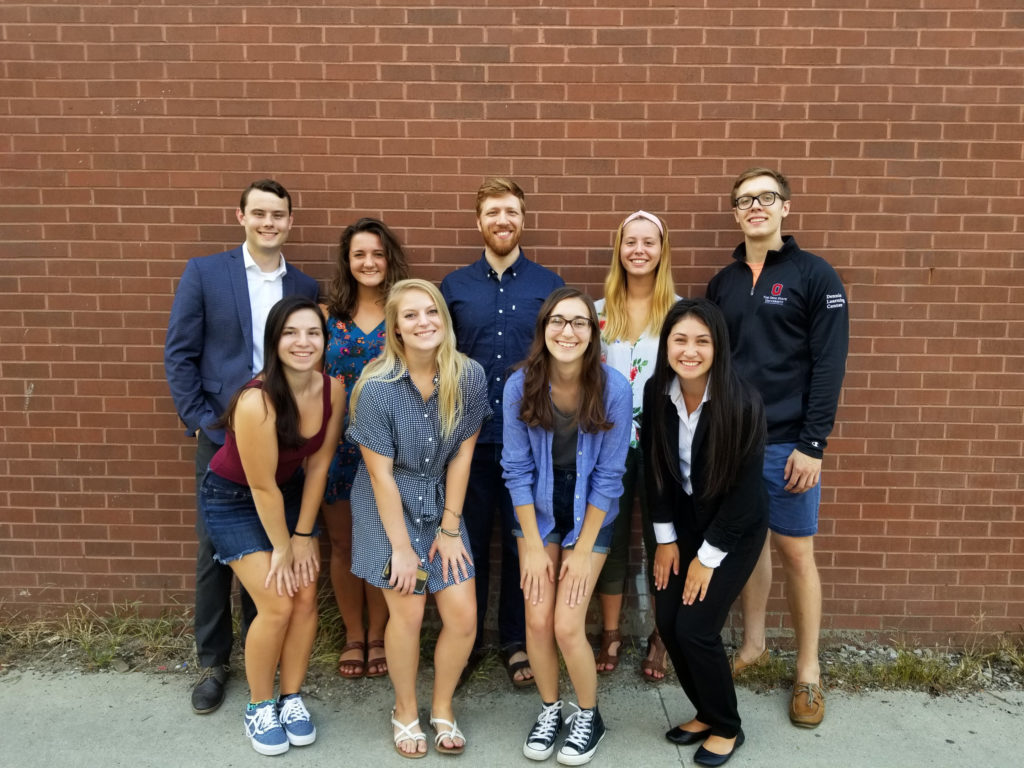 Emma Bernardi
Academic Coach
Major: Psychology
Year: 3rd
Campus Involvement: Psychology student ambassador, research assistant in developmental psychology lab, Deaf and hard of hearing club, psychology survey course assistant
Fun Facts: I collect socks with fun patterns on them, I probably have like 50+ pairs. I've been learning American Sign Language for 2 years. I enjoy doing yoga and engaging in mindfulness/meditation techniques. I love reading, listening to piano music, and watching scary movies and shows. I've signed the national anthem at a couple OSU football games. I have a 5-year-old Australian Shepherd named Shiloh and a 14-year-old calico cat named Bella.
3 Favorite Topics
Stress & mindfulness
Test-taking
Memory
Sara Hairgrove
Sr. Academic Coach & International Support Specialist
Major: Sociology
Minor: Child Abuse & Neglect
Year: 3rd
Campus Involvement: Outreach Coordinator and Student Leader at AwakenOSU, VP of Communication in OIA's English Conversation Program, Family Friend with Safe Families for Children, and Research Assistant for OSU's Sociology department.
Fun Facts: I love to do anything outdoors. I've been rock climbing and backpacking for 5 years. I also love cooking, especially breakfast food.
3 Favorite Topics
Stress & anxiety
International student support
Communication (public and interpersonal)
Ally Irwin
Academic Coach
Major: Community Leadership (ACEL)
Minor: Business
Year: 2nd
Fun Facts: I love to cook! I also enjoy working out, being outdoors, and going on adventures. When I'm not found cooking or adventuring, I will most likely be designing/decorating my future home on Pinterest.
3 Favorite Topics
Stress and Mindfulness
Time-management/Organization
Test Taking/Study Strategies
John Park
Graduate Academic Coach
Major: School Psychology doctoral student
Year: 4th
Campus Involvement: School Psychology Graduate Teaching Associate (GTA), volleyball and soccer intramural teams, interested in organizational and mental health related research
Hobbies: cooking, baking, soccer, technology
How do you think students can grow from coaching?
Comedian Pete Holmes describes life as a continued succession of tripping, getting back up, and talking about it. Coaching sessions provide students with a space to share their experiences regarding academic success. Coaches are a sounding board and may help student by providing individualized feedback and strategies for success in college.
Hannah Perruquet
Academic Coach
Major: Psychology
Minor: Spanish
Year: 2nd
Campus Involvement: Stadium Scholarship Program, Triathlon Team, Habitat for Humanity
Fun Facts: I am from Chicago and I came to OSU because I loved the campus and the endless opportunities it provided. I study psychology and would love to get my Ed.S in school psychology. I have been studying Spanish since the 7th grade and would love to one day be bilingual. In my spare time, I like to write and work out. Here on campus, I am on the triathlon team.
3 Favorite Topics
Stress
Procrastination
Paper Preparation
Owen Morrish
Academic Coach
Major: Psychology and Romance Studies
Minor: International Studies
Year: 2nd
Campus Involvement: Eminence Fellows Program, Mood and Personality Studies Lab, Lifespan Adjustment Project, Polyglot Club, The Right Click
Fun Facts: Foreign languages have always been one of my strongest interests! Here at Ohio State, I am officially studying French, Spanish, Italian, and Arabic, though I also have experiences outside the classroom with Mandarin Chinese, Kinyarwanda, and German! I love opportunities that allow me to further engage with this interest, such as volunteering as an ESL/Citizenship Teaching Assistant with Community Refugee and Immigration Services.
3 Favorite Topics
Time-management & organization
Test-taking
Procrastination management
Sura Al Dulaimi
Academic Coach
Major: Human Nutrition
Minor: Organization and Performance Psychology
Year: 2nd
Campus Involvement: Rural Economic Development Research Assistant, Young Scholars Program Ambassador, Equitas Health Clean Needle Exchange Program Volunteer, Physician CareConnection Arabic Interpreter
Fun Facts: I was born in Baghdad, Iraq, and I have family in 6/7 of the continents.
3 Favorite Topics
Motivation
Organization
Goal-planning
Peiliang Yu
Academic Coach
Major: Operational Management
Minors: Psychology & Video Art
Year: 2nd
Campus Involvement: Peer buddy in Best Buddies, active member in RPAC group fitness Hip hop & Zumba classes, visit volunteer in Kindred Hospice (co-operated with OSU's Psychology Department)
Fun Facts: I love dancing! I feel very relaxed and really enjoy it even though sometimes there is only one boy (i.e. me) in the class. You will always find me in RPAC group fitness hip-hop and Zumba classes. Also, I like to watch documentaries, play video games, and hang out with my friends during my leisure time.
3 Favorite Topics
Procrastination & time-management
Study strategies & exam preparation
Motivation
Tyler Eatman
Academic Coach
Major: Sports Industry
Minors: Business, Public Affairs, and Leadership Studies
Year: 1st
Campus Involvement: President of Siebert Hall Activities Council (SHAC), First Years Collegian Learning Community, Band of Brothers, The Association for the Business of Sports
Fun Facts: I am from New Jersey and I love watching OSU athletics especially football and wrestling. I am an Eagle Scout and I enjoy the outdoors. I hope to be a high school/college athletic director. I enjoy the fitness classes that the RPAC provides and meeting new people from different ethnic backgrounds.
3 Favorite Topics
Public speaking
Time-management and organization
Study strategies
Megan Robinson
Academic Coach
Majors: World Language Education and Spanish Education
Year: 2nd
Campus Involvement: Chaarg, Osu 4 Paws for Ability, Sophomore Learning and Involvement Community, Spanish Conversation Tables, Second-year Transformational Experience Program
Fun Facts: In my free time I like to read, write, and workout! I also really enjoy rock climbing and skiing! I love traveling and hope to spend a semester abroad to continue practicing Spanish.
3 Favorite Topics
Procrastination
Motivation
Test-taking & study strategies
Josh Needleman
Academic Coach
Major: Pre-Data Analytics
Year: 1st
Campus Involvement: Big Data and Analytics Association, FYC Learning Community
Fun Facts: I love playing sports, especially running. I also like video games–Super Smash Bros is my favorite–though I prefer to keep my friendships… I hope to someday be on a data analytics strategy team.
3 Favorite Topics
Study skills & test-taking
Self-regulated learning
Organization & time-management
Anna Brady
Academic Coach
Major: Educational Psychology doctoral student
Year: 4th
Campus Involvement: Graduate Assistant for the Ohio LSAMP Alliance, research interests include motivation and self-regulated learning
Hobbies: playing board games, reading fiction, seeing live music
How do you think students can grow from coaching? Academic coaching provides students with a judgment-free space to reflect on challenges and identify specific solutions. No matter what point a student is at in their degree program, academic coaches can support students in reaching their academic goals through individualized support and attention.
3 Favorite Topics
Time management
Self-regulated learning
Work/life balance