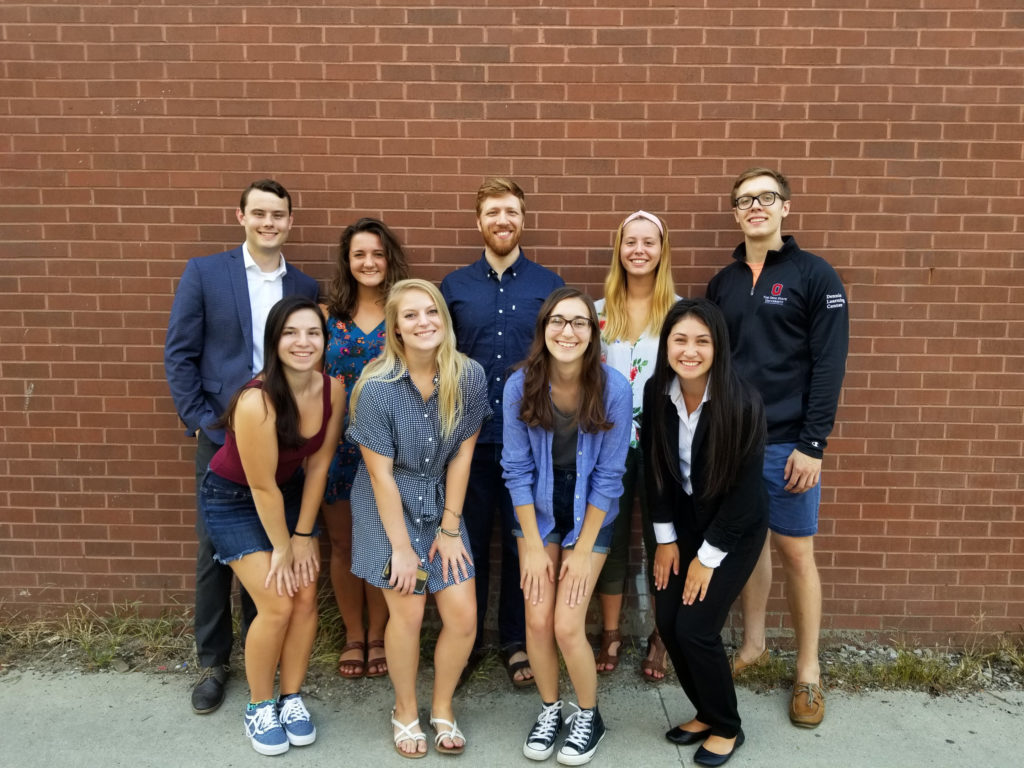 Emma Bernardi
Academic Coach
Major: Psychology
Year: 3rd
Campus Involvement: Psychology student ambassador, research assistant in developmental psychology lab, Deaf and hard of hearing club, psychology survey course assistant
Fun Facts: I collect socks with fun patterns on them, I probably have like 50+ pairs. I've been learning American Sign Language for 2 years. I enjoy doing yoga and engaging in mindfulness/meditation techniques. I love reading, listening to piano music, and watching scary movies and shows. I've signed the national anthem at a couple OSU football games. I have a 5-year-old Australian Shepherd named Shiloh and a 14-year-old calico cat named Bella.
3 Favorite Topics
stress (& mindfulness)
test taking
Memory
Morgan Ettrich
Senior Academic Coach
Major: Middle Childhood Education
Concentrations: Science and Language Arts
Year: 4th
Campus Involvement: Besides working at the DLC, most of my involvement occurs off-campus and is not affiliated with the university. For example, I am a classroom volunteer at a local school.
Fun Facts: I love puzzles (the more pieces, the better), baking, and eating. I'll try pretty much anything once, but I'll never eat bugs.
3 Favorite Topics
Test-taking/study strategies
Time-management/organization
Science and math support
Sara Hairgrove
Sr. Academic Coach & International Support Specialist
Major: Sociology
Minor: Child Abuse & Neglect
Year: 3rd
Campus Involvement: AwakenOSU, Vice President of Communication in OIA's English Conversation Program, Family Friend with Safe Families for Children
Fun Facts: I love to do anything outdoors. I've been rock climbing and backpacking for 5 years. I also love cooking, especially breakfast food.
3 Favorite Topics
Stress & anxiety
International student support
Communication (public and interpersonal)
Ally Irwin
Academic Coach
Major: Community Leadership (ACEL)
Minor: Business
Year: 2nd
Fun Facts: I love to cook! I also enjoy working out, being outdoors, and going on adventures. When I'm not found cooking or adventuring, I will most likely be designing/decorating my future home on Pinterest.
3 Favorite Topics
Stress and Mindfulness
Time-management/Organization
Test Taking/Study Strategies
Jake Koch
Academic Coach
Major: Cellular and Molecular Neuroscience
Minor:
Year: Junior
Campus Involvement: Theta Chi Fraternity
Fun Facts:  I love videogames, working out, taco bell, and Buckeye football. I hope to go to law school after finishing my degree but I'm not sure exactly what kind of lawyer I'd like to be.
3 Favorite Topics
Stress and Anxiety
Motivation
Procrastination
John Park
Graduate Academic Coach
Major: School Psychology doctoral student
Year: 4th
Campus Involvement: School Psychology Graduate Teaching Associate (GTA), volleyball and soccer intramural teams, interested in organizational and mental health related research
Hobbies: cooking, baking, soccer, technology
How do you think students can grow from coaching?
Comedian Pete Holmes describes life as a continued succession of tripping, getting back up, and talking about it. Coaching sessions provide students with a space to share their experiences regarding academic success. Coaches are a sounding board and may help student by providing individualized feedback and strategies for success in college.
Hannah Perruquet
Academic Coach
Major: Psychology
Minor: Spanish
Year: 2nd
Campus Involvement: Stadium Scholarship Program, Triathlon Team, Habitat for Humanity
Fun Facts: I am from Chicago and I came to OSU because I loved the campus and the endless opportunities it provided. I study psychology and would love to get my Ed.S in school psychology. I have been studying Spanish since the 7th grade and would love to one day be bilingual. In my spare time, I like to write and work out. Here on campus, I am on the triathlon team.
3 Favorite Topics
Stress
Procrastination
Paper Preparation
Chris Raisanen
Senior Academic Coach & Supervisor
Major: Finance
Year: Senior
Campus Involvement: Speaker/Presenter for ACE! (Autism College Experience), Volunteer & Educational Coach for TOPS (Transition Options in Postsecondary Settings), Resident Advisor in Smith-Steeb Hall, Outreach at Office of Disability Services.
Fun Facts: There is second of me, my twin brother! I love to cook and learn new herb and spice combinations, working out is my stress release, and I hike/backpack when I can get an entire weekend free! My coolest adventure yet was hiking in Iceland
3 Favorite Topics
Public Speaking
Motivation/Perspectives
Intellectual, Cognitive, and Developmental Disabilities